Scott Balmforth
Founding Director, Terroir
Terroir started out in Tasmania in 1999 when three university friends came together. The firm has since grown to an international scale with offices in Hobart, Sydney and Copenhagen.
Having a strong connection to the state and its wilderness, Tasmania played a distinct role as their talent developed in their formative years and still influences their design today.
Terroir was responsible for designing the first state heritage listed project to receive a 5-star Green Star Design rating for their project at 86-88 George Street at The Rocks in Sydney.
One of Terroir's founding directors Scott Balmforth offers his insights on Tasmanian design and what it means to be sustainable in 2020.
What role do you think architects play in sustainability and the future of the planet?
Historically, architecture has been at the forefront of marketing to lead the way in sustainability, in product use and way of thinking. Architecture is more than building. We're creating a desired place for society that we all want to live in.
I have an optimistic impression and vision for the future, but we do have a responsibility and care for our planet.
Architecture from the outset has the ability to change the conditions from the ground up and we need to be making careful and considered decisions and creating designs that have longevity and are sustainability made.
What do you think is missing from the conversation around sustainable architecture and design?
The discussion around sustainability is constantly changing and people have different views of what sustainability is.
For a lot of people, sustainability equals solar panels on the roof. Those are still important but take, for example, the building and construction industry, they have begun to be quite careful with waste and how it's transferred.
There are good stories like this that aren't understood, but just need to be uncovered.
"The conversation around sustainability is starting to shift from object-based discussion to a value-based discussion."
Do you think architecture has a responsibility socially for the greater community?
Definitely. There are not many instances that you can think of where you're engaged by the client. As an architect, you have a responsibility to both the client and the public to contribute to the greater social wellbeing that's also an aesthetic delight.
You have to manage this duality of pleasing the client but keeping the community in mind. A lot of our projects have tended to think about these two things, to encourage the client to think about the broader community.
We like our designs to open up cities to people allowing the public to walk through so it's not just for the building's occupants. Hobart has been set up this way, historically we've been able to move through the city, through its gaps and halls and open spaces between buildings or connecting buildings. We've picked this concept up as a Hobart based agency and have carried it into our designs.
According to research completed by Planet Ark on carbon, the built environment contributes 30% of the world's emissions – what are your thoughts on this?
Figures like this are why it's so important that we strive to get it right. With the current global pandemic we're living in, we're all looking for the bright side.
"I'd like to ask, what opportunities could this statistic bring? These are challenging times and we have an incredible amount of responsibility to carry but we have an exciting future in contributing to projects."
What is your studio's philosophy on sustainable design?
It's ingrained in our practice. We've been at the forefront of sustainability since we've started. Our project at 86-88 George Street at The Rocks in Sydney is the first state heritage listed project to receive a 5-star Green Star Design rating. It's been an important part of the practice and it's not just an added-on responsibility, we live it.
What is your studio's approach to choosing/sourcing materials for a project? Is sourcing local/Australian important? Why?
Yes, to local and Australian. Sometimes in major tender projects, they actually require Australian materials. There's definitely a connection of place when sourcing local.
We had a project along the Murray River where local timber was specified. The timber was actually milled 150 meters from the project site and was harvested from 4kms away.
"There are not many materials that you can compare the sustainability of timber to."
We also used local timber for the recently completed Philip Island Penguin Parade project which saw a number of 1.5-meter timber beams that added up to 25 lineal kilometres of timber.
Using a local timber really adds to the character and delight of projects.
Responsibly sourced, certified wood is the only building material that helps tackle climate change; it's renewable, it stores carbon and it consumes minimal energy in its production- how important is the incorporation of timber in your projects?
In many instances, we don't choose a specific material and the pursuit of a design unfolds naturally.
"Ultimately though, in the 20 odd years we've been in practice, we've seen a great shift in the use of the humble Tasmanian Oak. Some of our first houses had frames made from Tas Oak. Now, Tas Oak has caught the eyes of architects beyond Tasmania. It has great flexibility for architecture and can be finished in a tremendous amount of different appearances."
As COVID-19 has changed the way in how we interact with our living spaces and we're spending more time indoors, will biophilia play a greater role in design moving forward?
Yes. The way we think about our internal environment will likely mature and I think there will be a larger focus on creating buildings that can breathe. Along with that will be a growing appreciation for our own communities and how we love and care for each other and our internal environments will be structured around this.
As a Tasmanian based architecture studio, do you draw inspiration from your surroundings and if so, how does it influence the design of a project?
One day, at the end of my career I think I'll look back on this recurring idea that I've had on discovering what it means to be Tasmanian, to operate locally, on the edge of the world and afar. I see a city that hasn't exploded but has grown, with pleasant suburban growth and the mountain in our backdrop.
"There's an authenticity to the place here, we're wild and tough but we're also very connected and want to help each other. There's this sense of rawness living in Tasmania but it's a rawness and delicacy combined. That's the 'thing' that sits behind our architecture and we're trying to take that to the world."
In what ways do you think Tasmanian/Australian design can influence design on a global scale?
As a global practice, we have to try and understand what different regions or different practices bring to the table and try and seek out those unique local differences. Covid has strengthened our global connection but it's also shown how connected we are locally.
There's a local and global balance that's important for our architecture.
"Tasmanian design is relevant on an international stage, we have friends and peers that are from far-flung places and they honour our distinctive Tasmanian differences."
Is there a sense of camaraderie/collaboration amongst Tasmanian/Australian architects and designer-makers?
Architects as professionals, we're innately collaborative. But on the flip, we're fiercely competitive and not afraid to critique.
We're very good at finding communities of architects and likeminded people with shared interests so our relationships are very strong. We get each other, especially amongst the younger architects.
Within the local scene, there's an incredible amount of practices I admire. We're not all doing the same work and we can acknowledge each other's points of difference.
Is there an artist, photographer, furniture maker, designer or tradesperson that you think is making waves in Tasmanian/Australian design?
The next generation of architects within our own office are doing things that are new but so rich and not just new for new's sake. There's this maturing of the profession that I see in them.
As a practice, we self-propagate, we're like a big family, and we're inspired by new ways of thinking.
As an architect, is there any advice/encouragement you would like to pass along to the next generation of architects?
Stick with it! With social media and the ability to form a community of likeminded people of generally the same peer group or age group.
Architecture as a profession builds on the body of knowledge that's been gathered over time. It's important to understand stories and why people did things the way they did. I've done some guest critiquing at the University of Tasmania and I'm constantly encouraging students to think about what they're doing in context.
Take for example building a new library. You don't want to just create it in a bubble. You have to ask, what's come before? It's so easily disregarded.
"Inquire, research and be curious. Architecture is a great ride; I wouldn't not do it for anything."
What three words define your practice?
Different. Intriguing. Confident.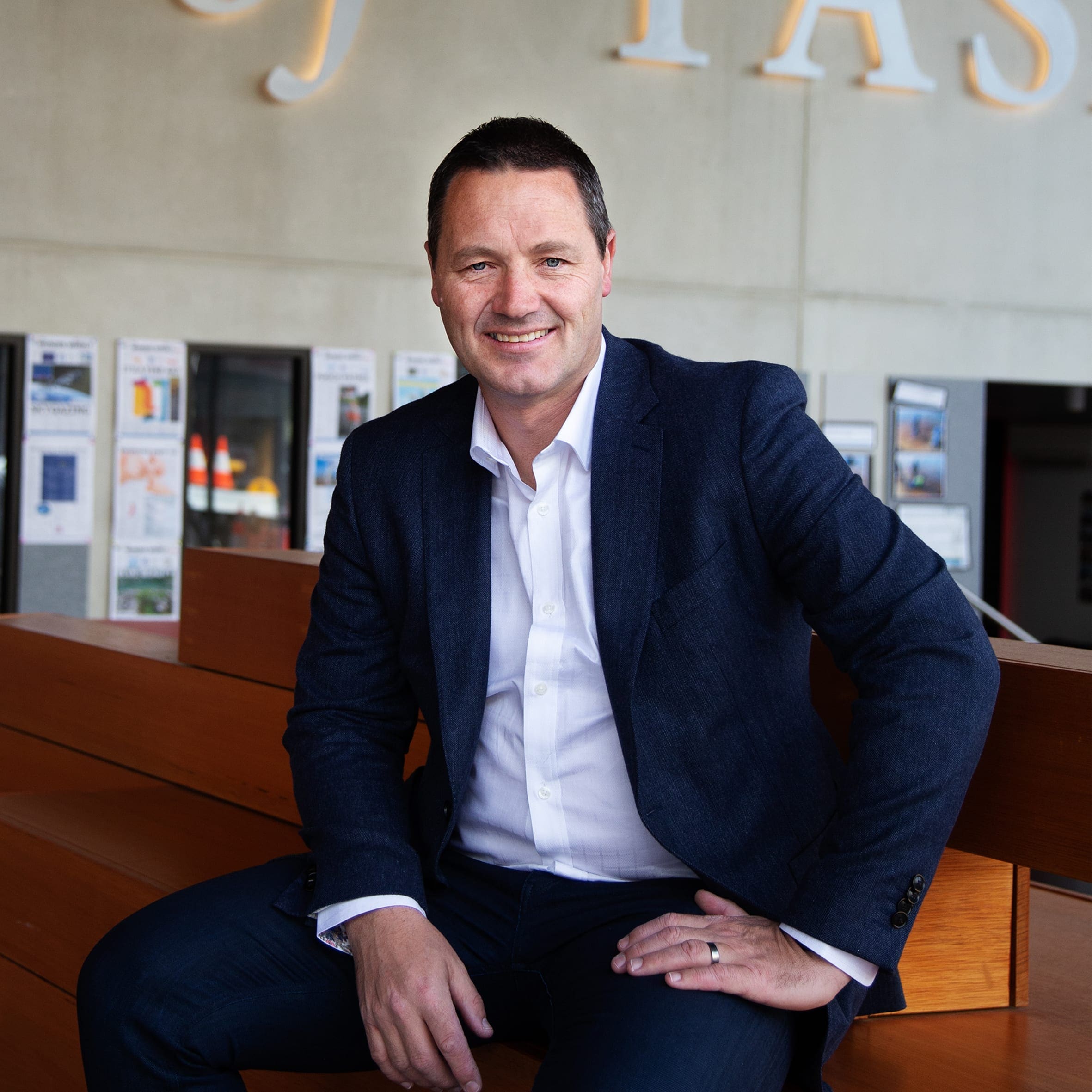 The Architect
Scott Balmforth, Founding Director
Terroir

Get the latest inspirational Tasmanian Timber projects and stories delivered straight to your inbox!